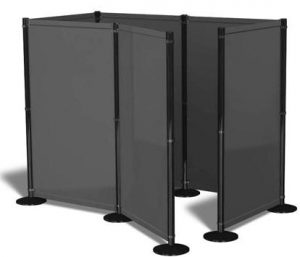 Indoor privacy screens and booth system from Lavi Industries are ideal as a portable security screening booth at airports or as a private dressing room at a trade show or any location that does not offer dressing rooms.
The 4′ wide x 7′ tall non-transparent privacy panels offer maximum privacy at an affordable price.  The panels are lightweight and easy to handle making set up and tear down a breeze. The rip resistant, fire retardant nylon panels are available in black only.
PRIVACY SCREEN SYSTEM / KIT INCLUDES:
7 Posts and 6 Panels

(each panel is 4'W x 7'H)
Additional screens and posts can be purchased separately
PRICE: Contact us with quantity and shipping destination for quote
NOTE: This privacy screen kit is designed to be set up as a booth. It is not recommended to set up in one straight line as a straight wall will easily fall if leaned upon. If you do use as a partition, each panel must be staggered and not in a straight line.
Licensed media (images) is copyrighted © by Lavi Industries