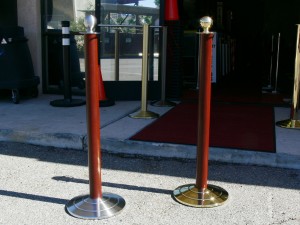 Four and Five Star hotels and resorts, upscale restaurants, museums, wineries, theaters and a handful of others need to present and maintain an upscale high-end appearance and professionalism at all times. This especially includes entrances and lobby areas where your guests may be waiting in line.
We have luxury crowd control furnishings that include very attractive, upscale post and rope stanchions that can be customized to your needs. The polished brass and chrome have a high luster base and finial guaranteed to make an impression as your guests enter your establishment.
Are you dealing with more of a hands on crowd? Our brushed and satin finish crowd control stanchions are exceptional at hiding dust, scratches and fingerprints. Our posts and bases can be powder coated with your choice of dozens of finishes including wood grain finishes.
Our luxury stanchions, designed for indoor use, have a thick 2.75″ post as compared to the industry standard 2.5″. They also weigh in heavier than typical and imported stanchions.
We also offer a variety high-end, luxury stanchion ropes that come in durable leather, rich looking Naugahyde and velvety velour. We can also dye microfiber ropes with any design or color you need.