Boulevard Supply offers a portable railing system designed for hotels, casinos, museums, art galleries, auto shows, food service areas, transportation terminals, government buildings, nightclubs and high pedestrian traffic venues.
Dependable and durable, these aluminum railing systems offer an upscale appearance, are virtually maintenance free. The satin or powder coated finishes conceal dirt, fingerprints and smudges and clean up easily with a damp cloth.
Not a Permanent Installation, No Contractors Needed
No holes to drill in the floor, No sockets to cap
NO TOOLS REQUIRED
No Polishing or Cleaning Chemicals
Choose between our single rail system or our ADA compliant dual rail system. Make a floor plan and layout the pattern of your desired railing system. Measure twice, order once!  Use heavy large dots for posts, draw lines with the foot (length) number next to it for railings. If you are ordering an ADA dual railing system, just double your rail number at the end of your order. Keep your map clean and easy to read. Then, at the bottom or on a separate page, make a table of the item and quantity needed.
Make sure to add fixed objects to your map such as counter areas. Also leave space for wheel chairs if necessary. If setting up for wheel chairs, make sure the width is measured base to base instead of post to post. This will allow ease of use for wheel chairs(See the ADA Guidelines section 4.3.3)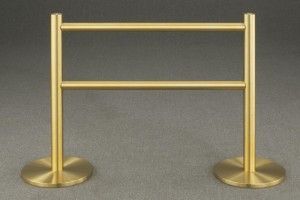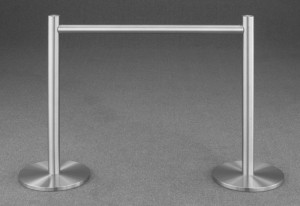 RAILING SYSTEM SPECS
POSTS: 36″H, 2.5" D, 4-Way Posts
BASE: Solid Steel 14" diameter base
POST/BASE: Combined weight of 33 lbs
RAILS: 2" diameter rails attach securely to posts to form a tamper resistant barrier
CONSTRUCTION
CONSTRUCTION: Made in the USA with rust and tarnish proof recycled aluminum.
FINISH: Available in satin aluminum, satin brass. Many powder coated color options are also available. (See color chart below)
RAILING SYSTEM PRICING
POSTS
RP14-SA – Single Rail Satin Aluminum – $139. each
RP14-BE – Single Rail Satin Brass – $169. each
RP14-PC – Single Rail Powder Coated – $169. each
RAILS
R3 – 3′ rails – $69. each*
R4 – 4′ rails – $79. each*
R5 – 5′ rails – $89. each*
R6 – 6′ rails – $99. each*
(*add $10 per rail for brass or powder coat finish)
OPTIONS
Wall Plate Receivers for Rails – $25 each
Signage options are available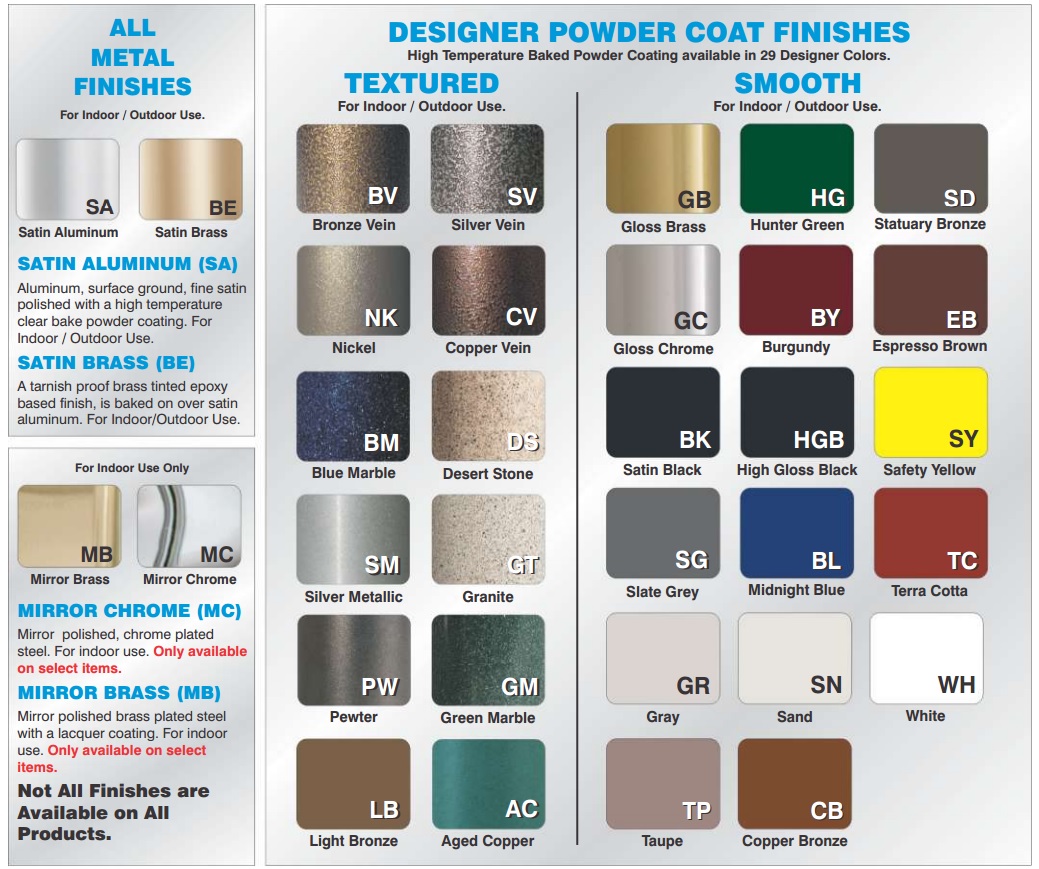 SHIPPING ETA
Boulevard Supply is based in Las Vegas, however, our crowd control railing system supplier is on the east coast. Shipping orders to east coast cities such as New York City, Boston, Washington DC, Philadelphia and others can be fulfilled in a couple days. Midwestern cities such as Cleveland, Columbus, Cinci, St Louis, Indy, Chicago and Kansas City and expect 3 – 4 business day delivery. Southern and south eastern cities such as Dallas, Houston, Miami, Tampa, Orlando, Atlanta, Mobile and and others can also expect 3 to 4 days for delivery.
Once you get close to the rockies or west of the Rocky Mountains, cities such as Denver, Phoenix, Salt Lake City, Las Vegas and Albuquerque can take 5 to six business days. Los Angeles, San Francisco, San Diego, Portland and Seattle can expect approximately 7 business days for delivery.
Powder coating and quantity adds to the process time of an order.