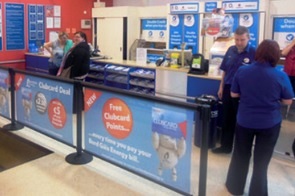 High Impact Roll Up Banners (Rollersigns®) attract attention and send a loud message at your trade show or indoor or outdoor event. When you have a chance to promote yourself, your products or your services to a large, heavily attended event, you need to capitalize on that opportunity.
Concerts and Sporting Events
Marathons and Parades
Trade Shows and Conventions
Political Events and Campaign Ads
These events are opportunities and the easiest and most affordable way to reach the bulk of those that will attend these events is by renting a roll up banner and stanchion kit from Boulevard Supply. No need to purchase anything. Just rent for a day or the duration of  the event and that's it. A generous ad space area 57″ wide x 31″ high offers a lot of opportunity to get your message across. Your banner and message will be seen by thousands.
GETTING STARTED
Make a diagram of your layout. Two stanchions and one roll-up banner require approximately 68″ linear inches.
Create your artwork or send us your details. We can design your banner for an additional fee.
Send us your event details including the drop-off and pick up dates, times and locations. Delivery fee applies.
HOW MUCH DOES IT COST?
ROLL UP BANNER & STANCHION RENTAL
SINGLE SIDE AD
AD ON BOTH SIDES
2 Stanchions / 1 Banner  $.

2 Stanchions / 1 Banner  $.

3 Stanchions / 2 Banners  $.

3 Stanchions / 2 Banners  $.

4 Stanchions / 2 Banners  $.
4 Stanchions / 2 Banners  $.
4 Stanchions / 3 Banners  $.
4 Stanchions / 3 Banners  $.
CALL FOR QUOTE
702-706-7047