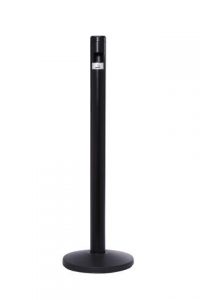 A fair share of your employees and customers are smokers. Designated smoking areas are now commonplace and smoking area equipment is almost a necessity for your facility. We have a variety of cigarette receptacles known as smokers poles or smokers posts that help keep the cigarette butts off the ground and keeps your smoking area looking neat and clean.
Our smoking area signs clearly designate which areas of your facility are approved and not approved as a smoking area.
METAL SMOKERS POLE
DIMENSIONS: 44″H with 14″ diameter base
COLOR: Black
CONSTRUCTION: Metal post, concrete base covered by plastic
PRICE: $79.95 each + Shipping
SMOKING AREA SIGNS
Our all weather portable signs are ideal for temporary or permanent use in your smokers area. Terminology can be reversed or edited to designate an area approved for smoking. Colors and fonts can also be edited.
SIGN DIMENSIONS: 43″H
LABEL DIMENSIONS: 8″W x 36″H, each sign has two labels, one on each side of panel.
BASE WEIGHTS: 20 LB for Open Outdoor Smoking Area, 9 LB base for indoor use or enclosed no wind area
PANEL and BASE COLOR: Black
CONSTRUCTION: Durable Plastic panel, Vinyl Label, Recycled rubber base
PRICE:
with 20 LB Base @ $79.95 each + Shipping
with 9 LB Base @ $69.95 each + Shipping
OUTDOOR COOLING FANS
Now that most locations have moved designated smokers areas outside, smokers have to deal with high temps in the summer sun while on smoke break. Our outdoor cooling solutions include evaporative cooling fans form Port A Cool and Power Breezer. It is important to know the square footage of the smoking area  in order to select the proper cooling fan(s) for your space.