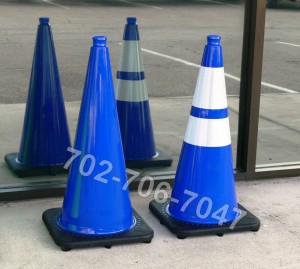 We have the bright royal blue traffic cones in 28 inch reflective and non-reflective from JBC Safety.
Make your private parking lot, parking garage or valet area stand out from the rest with bright, royal blue traffic cones. These blue cones are 28″ high and available with or without reflective tape bands. If you plan on using them at night, order the reflective cone. Blue cones are an ideal for coning off handicap parking spaces or around a stadium or arena where a home teams color is blue.
JBC Blue traffic cones meet MUTCD nighttime requirements
28″ tall, 7 lbs each
Available in all blue or with reflective 3M tape bands
One 6″ band, One 4″ collar on reflective cones
Please contact us with quantity, reflective or solid, and shipping destination
Optional Silk Screening or Stenciling is available for an additional fee
BLUE COMPANY / TEAM COLORS
If this blue traffic cone matches your company or team colors, you are in luck. You have now found another eye catching item for your company or team logo. If you are a sports team, just imagine the number of fans on game day that will see these blue cones with your team logo instead of the same old orange traffic cones in your parking lot. Unique blue cones will definitely catch their eye allowing you to brand your image.
ADD TEXT OR A LOGO TO EACH BLUE CONE
Optional stenciling or silk screening is available for a small fee.
Stencil – $35 setup @ $0.25 per cone
Silk Screen – $95 setup @ $0.60 per cone
28″

BLUE

TRAFFIC CONE PRICING
(Shipping Not Included)
Quantity →
up to 48
49 – 299
300+
RS70032C-BLUE
(Solid Cone)
(36) cone

minimum order

$11.45
$10.45
$9.45
RS70032C-BLUE3M64
(Reflective Cone)
(24) cone

minimum order

$16.95
$15.95
$14.95