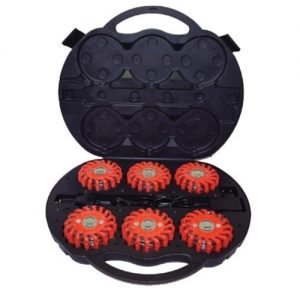 Rechargeable LED road flares for roadside emergencies, traffic accidents, emergency traffic control, safety services including police and fire, valet lane delineation, parking garages, parking lot management, road construction and even as party decor in night clubs. Available in yellow/amber, white, red and green.
These compact, rechargeable LED emergency road flares emit 360° of ultra-bright light from 16 LED's. They are visible from one mile away and are sold with carry case that is the actual charger base. Just leave one, two, three or all six road flares in the carry case and plug it in to charge.
LED road flare kits are the perfect gift for the person that has everything or someone that is hard to buy for. Guys will love it! Dad, son, husband or boyfriend, it doesn't matter. If they have a car, if they have a car, they will like it.  It takes up very little space in the trunk or it can slide under the seat.
Guys can also give themselves peace of mind by purchasing a road flare kit for their mom, daughter or significant other. Not only does the carry case charge all six LED flares at once via a 110 volt outlet, it can also charge via the cigarette lighter in your car or truck.
Speaking of trucks… owner operators, construction companies, truck fleets, commercial buses and pretty much any vehicle that uses public roads should have an LED flare kit tucked behind their seat.
FEATURES OF LED ROAD FLARES
Nine flash patterns, including SOS (Morse Code) and solid-on
Included carrying case doubles as a master charging station
Magnetic: Each road flare is magnetic
Longevity: 10 year shelf life
Available Colors: in Red, Yellow, Green and White
PRICE: Each 6 Pack Kit is $119.95 each + shipping
RED 6 PACK KIT: PART# BLVD-SOLSIG-SLDF6-04595
AMBER/YELLOW 6 PACK: PART# BLVD-SOLSIG-SLDF6-04636
WHITE 6 PACK KIT: PART# BLVD-SOLSIG-SLDF6-04638
GREEN 6 PACK KIT: PART# BLVD-SOLSIG-SLDF6-04637
Extreme heat and surface temperatures exceeding 140° F will reduce the operating efficiency of the LED road flares.
VERICOM LED ROAD FLARES
WHAT WE NEED TO KNOW:
Quantity and color of the LED Road Flares you need. Part numbers are listed above. EXAMPLE: One 6 pack, not six.  If you request six, that would be 36 total LED (six 6 packs)
Complete billing and shipping destination details along with a contact name and number for receiving