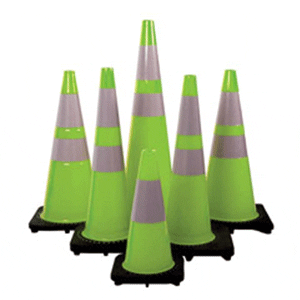 We have lime green traffic cones. Reflective and non-reflective green cones from JBC Safety.
Eye catching, attention getting lime green cones get noticed day or night in your parking lot, warehouse or parking garage. These lime green cones are 18″, 28″ and 36″ high and available with or without reflective tape bands. If you plan on using them at night, order the reflective cones.
JBC Lime Green traffic cones meet MUTCD nighttime requirements
Available in all solid lime green or with reflective 3M tape bands
One 6″ band, One 4″ band on reflective cones
Call with desired size, quantity and shipping destination
ADD TEXT OR A LOGO TO EACH CONE
Optional stenciling or silk screening is available for a small fee.
Stencil – $35 setup @ $0.25 per cone
Silk Screen – $95 setup @ $0.65 per cone
18″ LIME GREEN TRAFFIC CONES
(Shipping Not Included)
Quantity →
1 – 99
100 – 499
500+
RS45015C-LIME
(3 lb Solid Color Cone)
(62 Cone min order)
$8.95
$7.95
$6.95
RS45015C-L3M6
(3 lb Reflective Cone)
(42 Cone min order)
$11.95
$10.95
$9.95
28″ LIME GREEN TRAFFIC CONES
(Shipping Not Included)
Quantity →
4 – 48
49 – 299
300+
RS70032C-LIME
(7 lb Solid Color Cone)
(36 Cone min order)
$12.95
$11.95
$10.95
RS70032C-LIME3M64
(7 lb Reflective Cone)
(24 Cone min order)
$17.95
$16.95
$15.95
36″ LIME GREEN TRAFFIC CONES
(Shipping Not Included)
Quantity →
4 – 99
100 – 199
200+
RS90045CT-LIME
(10 lb Solid Color Cone)
(28 Cone min order)
$21.95
$18.95
$17.95
RS90045CT-LIME3M64
(10 lb Reflective Cone)
(24 Cone min order)
$24.95
$22.95
$21.95