An upgrade to your valet parking equipment will put your parking services a step above the competition. Replace your old wrinkled up delineators and construction style traffic cones with some nice looking portable delineators and valet cones. Our black dome top delineators are a very popular choice for hotel, casino and resort valet areas.
DOME TOP DELINEATORS
$21.95 each plus shipping, 12 lb base included
41.5″ High
MINIMUM ORDER of 24 REQUIRED (outside of Las Vegas)
Color Choices: Black, Blue, White, Green, Yellow, Lime Green, Red (not shown)
EASY GRAB DELINEATORS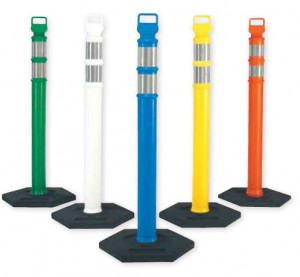 If your valet area requires a lot of moving around of delineators and cones for lane blocking purposes, we offer East Grab delineators which have a molded handle on top.
$29.95 each plus shipping, 10 lb base included
(ADD $5.00 each for 15 lb base)
45″ High
MINIMUM ORDER of 20 REQUIRED
Color Choices: Orange, Blue, White, Green, Yellow, Lime Green (not shown)
CHAIN BOSS DELINEATORS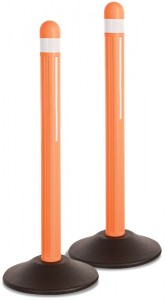 Molded plastic Chain Boss delineators are a nice looking orange delineator that features both wrap around reflective collars and vertical reflective stripes.
Height: 39″High
Post Diameter: 3″D
Base Diameter: 14.5″D
Net Weight: 6 lbs each (empty base)
Gross Weigh: 19 lbs each (filled base)
SOLD IN PAIRS:

$74.95 per pair

empty base + shipping / 

$84.95 per pair

full base + shipping
Call 702-706-7047 for quote. Will need quantity, destination address and zip code. Will also need to know if you have a loading dock or fork lift available or if you will need lift gate service.