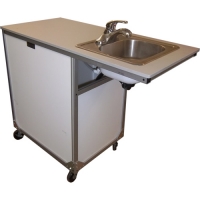 If your city or county regulations require an ADA Compliant Hand Sink, we have the solution. The portable Monsam PSE-2020 is an ADA compliant hand sink that provides both hot water and wheel chair access.
The Monsam PSE-2020 is light and mobile making it an ideal choice for restaurants, schools, arenas, churches or any other venue requiring a permanent or temporary ADA compliant hand washing station.
The 5 gallon freshwater tank allows for 80 hand washings before tanks need to be refilled and emptied.
$1599. each plus shipping
(Lead time averages 10 – 14 business days)
ADA HAND SINK SPECIFICATIONS:
Model: Monsam PSE-2020
110v, 20 AMP Water Heater
Meets American Disability Act standards (ADA Compliance)
Tank Capacities: 5 gallon fresh water / 7 gallon waste water
Color Choices: black, grey, white, red, maple and blue. (Note: You can have a local ad wrap company wrap your unit to match your decor)
1 Year Warranty
DIMENSIONS:
UNIT: 34″W x 18.5″D x 31.75″H
BASIN: 11″ x 13″ x 6″D, Single basin