Boulevard Supply offers a more flexible solution for pedestrian and event barricade rentals for events in Las Vegas.
RENTALS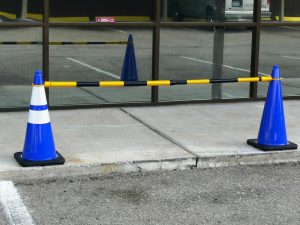 We will provide you with portable loop top and knob top delineators along with telescoping traffic cone bars. Two sizes of cone bars are available allowing you to erect a quick barricade that expands from a minimum of 4′ post to post to a maximum of 10′ post to post depending on which telescoping bar you are using.
When the retractable/extendable cone bar is used with our 48″ delineators, the bar will create a horizontal line barrier approximately 41″ above the ground surface. The retractable cone bars can also be used with 18″, 28″ and 36″ traffic cones if another height of line barrier is desired.
BARRICADE RENTAL PRICING
Please call with the following details for an accurate quote:
quantity of delineators needed
quantity of  expandable/retractable cone bars needed
dates and duration of rental
LOCATION: Do you need delivery or will you be picking up and dropping off?