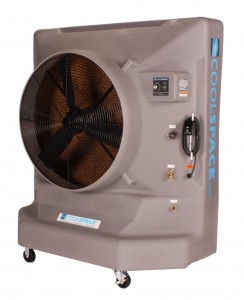 A popular alternative to air conditioning in the southwest USA are evaporative cooling fans or swamp coolers which are much more cost effective than A/C.  That savings can really add up in cities like Las Vegas, Phoenix, Los Angeles, Dallas and Houston.
Boulevard Supply offers the whole line of Port-A-Cool® evaporative coolers which come in a variety of sizes. There is an evaporative cooling fan for just about any application including homes, garages, decks, warehouses, restaurants, factories, sports venues, arenas, school classrooms and gymnasiums and so on. We could keep going but you get the idea.
FAST and FREE SHIPPING*: If you live in the desert southwest, you can usually receive your cooling fan in 48 hours or less. Hot weather means supplies will run low so don't wait. If you live in Texas, Utah or outlying areas, expect an extra business day or two of transportation time.
*Free shipping applies to PortACool® and Cool Space™ models.
We also have non-electric air driven cooling fans and hazardous location cooling fans in which the switches, cords and motors are sealed to reduce the risk of a spark. Please call for availability and quote.
Evaporative coolers are not swamp coolers. There is a difference! Port A Cool evaporative coolers are much more efficient, quieter and are portable as compared to swamp coolers.