We are all at risk every time we leave our homes but it's not as bad as the media makes it out to be. With some common sense and preventative care, we can all prevent the spread of sickness and disease and reduce our own personal risk of contracting a transmittable disease such as the Corona Virus (COVID-19) Ebola, Norovirus, H1N1, the Flu and the common cold.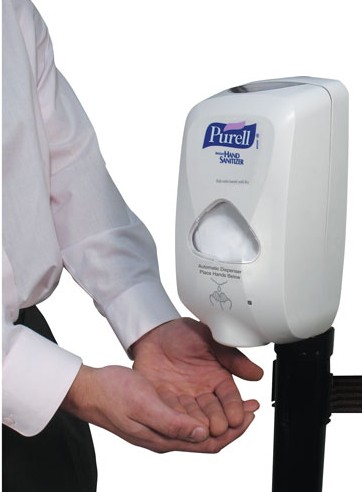 We have all seen the stories of how dirty public restrooms are, not to mention the large amount of people that don't wash their hands, but there are other public items that are just as dirty and contaminated, if not worse…
any public door handle
any public railing
escalator hand rails
video poker buttons
slot machines
shopping carts
As a business owner, you should offer your customers and your employees a hand sanitizing solution to show that you do care and that you are doing your part to reduce the risk of your facility spreading germs.
Boulevard Supply offers stanchion top mounted hand sanitizing stations that can help you, your company and your customers reduce the spread of germs and disease.
Contact us today for a quote.