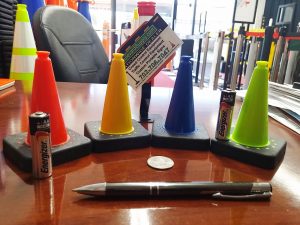 Available for bulk purchase are 3.5 inch high mini traffic cones. These mini marker cones are non-reflective and are ideal as a business promotional product or for daytime use in accident and crime scene investigation, attracting attention at trade shows or for promoting safety.
Colors: Orange, Lime Green, Yellow and Blue
Crime Scenes & Accident Investigation
Promotional Traffic Cones
1/2″ base + 3″ cone section = 3.5″ Cone Height
Weight: 3.18 ounces or 90.1 grams
Boulevard Supply Price: $1.95 each with a minimum order of 200 units. This includes black one color printing and set up fee
These Mini Cones are a JBC Safety Plastic product.
Promote Your Construction Business
Advertise Sporting Events
Attract Attention for Fundraisers
Promote Safety Products
Great for Trade Shows and Conventions
Ideal Promotional product for teams and schools