An upgrade to your valet parking equipment will put your parking services a step above the competition. Replace your old wrinkled up delineators and construction style traffic cones with some nice looking portable delineators and valet cones. Our black loop top delineators are a very popular choice for hotel, casino and resort valet areas.
COLORED LOOP TOP DELINEATORS
$22.95 each plus shipping, 12 lb base included
46″ High
Convenient loop top handle make transporting and moving them around an easy task. The handle is also ideal for running chain or caution tape through.
MINIMUM ORDER of 24 REQUIRED (outside of Las Vegas)
Color Choices: Black, Blue, White, Green, Yellow, Lime Green, Red (not shown)

JBC A-Top Delineator Spec Sheet
EASY GRAB DELINEATORS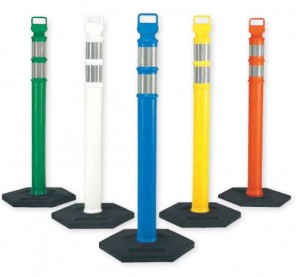 If your valet area requires a lot of moving around of delineators and cones for lane blocking purposes, we offer Easy Grab delineators which have a molded handle on top.
$29.95 each plus shipping, 10 lb base included
(ADD $5.00 each for 15 lb base)
45″ High
MINIMUM ORDER of 20 REQUIRED
Color Choices: Orange, Blue, White, Green, Yellow, Lime Green (not shown)
CHAIN BOSS DELINEATORS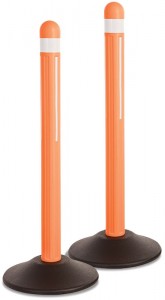 Molded plastic Chain Boss delineators are a nice looking orange delineator that features both wrap around reflective collars and vertical reflective stripes.
Height: 39″High
Post Diameter: 3″D
Base Diameter: 14.5″D
Net Weight: 6 lbs each (empty base)
Gross Weigh: 19 lbs each (filled base)
SOLD IN PAIRS:

$74.95 per pair

empty base + shipping / 

$84.95 per pair

full base + shipping
Call 702-706-7047 for quote. Will need quantity, destination address and zip code. Will also need to know if you have a loading dock or fork lift available or if you will need lift gate service.