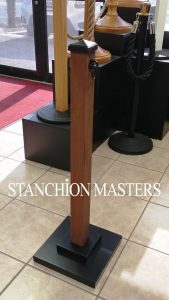 Tired of the same old traditional round post, round base stanchions? We have stylish classic square post, square base stanchions available in multiple finishes including polished brass or polished chrome, real wood square stanchions or various powder coated color finishes. We have heavy duty, high-end Tensabarrier stanchions which feature a brilliant high lustre finish. We also feature Stanchion Masters real wood indoor/outdoor stanchions and all weather decorative square stanchions. Another popular choice, especially for our customers in Hawaii are our red oak square posts.
STANCHION MASTERS SQUARE STANCHIONS
Designed both outdoor use and indoor use, Stanchion Masters American Made decorative stanchions featuring a 12″ wide, two tier square base and 2½" square post. The posts are available in real wood or we can powder coat the aluminum post to an RAL powder coat color of your choice.
Dimensions for Stanchion Masters stanchions vary depending on chosen configuration:
TENSABARRIER SQUARE STANCHIONS
Designed indoor use, Tensabarrier 309 Deco Post stanchions offer a high-end luxury appearance featuring a 10″ wide, two tier square base and 2″ square post. The decorative metal stanchions are available in high polished chrome or in a high polished brass gold color.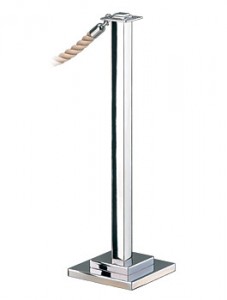 DECO POST DIMENSIONS
307 HITCHING POST DIMENSIONS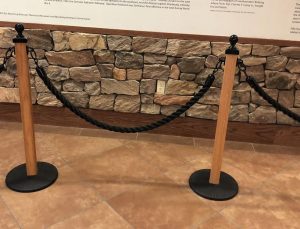 The Tensabarrier 307 Hitching Post stanchion is a popular choice for rustic or country themed indoor locations with a light oak square wooden post, round black base, black ball post cap and rope ring hardware.
SQUARE RED OAK WOOD STANCHIONS
These red oak square wooden stanchions are a nice exotic choice on the coast. in Hawaii or where ever you have a tropical theme.