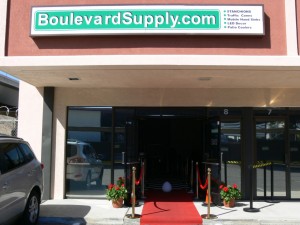 Established in March, 2014, Boulevard Supply is a Las Vegas, Nevada based tier 1 emerging small business. We provide local Las Vegas  hotels, casinos, restaurants, schools, airports, construction companies, municipalities, valet parking services, parking management companies and nightclubs with a variety of crowd control and traffic control equipment.
Since our inception, we have expanded with nationwide delivery, providing quality products and equipment along with friendly dependable service to even more industries and have also started rentals of traffic control cones and delineators in the Las Vegas metro area.
Our goal is turning first time customers into dedicated repeat customers that would not hesitate to recommend Boulevard Supply to their friends.
INDUSTRIES AND FACILITIES SERVED INCLUDE:
Airline Industry
Amusement Parks
Banks
Casino Industry
Construction Industry
County and State Government
Entertainment Industry (Red Carpet Events)
Hospitality Industry
Hotel and Resort Industry
Municipalities and Schools
Museums
Night Clubs
Parking Management
Party and Equipment Rental Industries
Restaurant Industry
Retailers
Sky-Cap and Valet Services
Sports Venues and Events
Theaters and Arenas
Please visit our Las Vegas location for a sample of what crowd control and traffic control equipment we have to offer. We are two minutes from the Las Vegas Strip.
CLICK HERE FOR LOCATION AND MAP
POPULAR BOULEVARD's
Hollywood Boulevard
Sunset Boulevard
Las Vegas Boulevard
Boulevard Supply