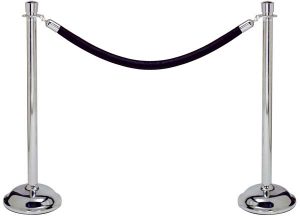 We offer a large selection of quality post and rope stanchions from affordable value brands to luxury and high end custom post and rope. You've seen these classy stanchions at red carpet events and at high end clubs and restaurants.
STANCHION POSTS – posts are available in a variety of finishes
Choose between polished brass, gold, polished stainless steel (chrome), satin and multiple powder coated colors
Choose stanchion top – Flat, Tapered or Round
Choose a base type – Flat, Mid-rise, Dome or removable or fixed post
EconomyPremium StanchionsLuxurious StanchionsAccessories
WHAT WE WILL NEED TO KNOW:
QUANTITY: How many post and rope stanchion posts will you need?
USAGE: Do you plan on using your post and rope stanchions indoors, outdoors on a limited basis or outdoors full time?
TOP CHOICE: Tapered top, flat top, ball top?
COLOR CHOICE: Normally, polished chrome, polished stainless, black, satin, polished brass.
STANCHION ROPE CHOICES: Will your stanchion ropes be used indoors or outdoors? Some ropes will not last when exposed to direct sunlight, rain or salty air. We will recommend the proper ropes based on the location you wish to use them. Some ropes can also be treated for outdoor use.
DESTINATION: Are we delivering to a business or residence? Do you have a fork lift or loading dock available if ordering in bulk? Will you need lift gate service? Any special instructions?