There is a new trend with post and rope crowd control barriers. For over a century, the go to for post and rope were primarily polished brass and polished stainless or chrome stanchions. Some have dabbled or created their own wooden post barriers for their venue over the years but no company has ever offered the variety of wood color options that Stanchion Masters® offers with their outdoor crowd control posts.
Below is a small but accurate sample of the trending Stanchion Masters® wood post and rope barriers that will be trending in 2023 to 2024 and beyond.
The eco-friendly feature of these wooden stanchions is that the post section that appears to be wood is actually powder coated aluminum. No trees are harmed in the creation of Stanchion Masters® wooden barriers.
These post and rope barriers are ideal for indoor or outdoor use at state and National Parks, botanical gardens, amusement parks, western bars and hotels and restaurants with wooden decor and  themes. These are the perfect portable barrier to section off an outdoor dining section.
POSTS COLOR OPTIONS
Choice of post color: Square post and cap with round base as shown
OPTIONAL: Add two black hitching posts rings to each post: add $20.00 per post
Solid color powder coating is also available but nominal minimum order quantities do apply
CROSS-BARS or ROPE
Choice of 4ft long X 1.5″ Diameter

real poplar wood

. Stained or un-finished
or, 4ft long X 1.5″ diameter

carbon fiber tube

in charcoal gray (black), forest green or dark gold.
OR, 4ft, 5ft, or 6ft black or manila twisted landscape rope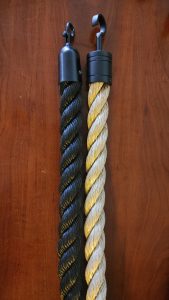 DETAILS
4ft BEAMS: When using the 4ft beams attached to the hitching post rings, the distance from center post to center post is approx 54″.
6ft BEAMS (OPTIONAL UPGRADE): When using the 6ft beams attached to the hitching post rings, the distance from center post to center post is approx 77″.
Beams and ropes may also be attached to the rope plate beneath the post cap
WHY USE ALUMINUM INSTEAD OF WOOD
First, we switched to aluminum posts over wood due to numerous inconsistencies in our wood posts. Almost every order we received there we issues with split wood, splinters, posts being the wrong size and glue seams were also an issue.
The switch to aluminum in 2019 wasn't easily made but looking back, it was an excellent decision. Aluminum is highly sustainable as it is recyclable. When the aluminum posts arrive, the dimensions are always correct. Aluminum is rot resistant, insect resistant, corrosion resistant, non-toxic and again, recyclable.
HOW TO ORDER / CONTACT US WITH…
Your post color choice # from the image above
Quantity of hitching posts
Quantity of beams or ropes
Color of beam or rope
Length of beam or rope
Do you want to add a sign holder?
Complete Billing and Destination Details
Is a forklift available?