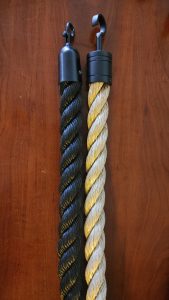 We sell decorative nautical rope, 1-1/2 inches thick available in various lengths and with or without heavy duty rope ends.
Choose from 1.5″ thick manila or black twisted 3 strand polypropylene rope. Measure your distance two or three times as once we cut and create your rope, it is non-returnable.
If you don't need rope ends, your rope will come fused, wrapped and sealed on the ends.  If you do need rope ends, we offer various colors of heavy duty rust resistant rope ends as the bulk of our customers are on the coasts or near salt water.
Decorative nautical ropes aren't just for piers, coastal restaurants and oceanside retail locations, many commercial wood and western themed locations use our thick decorative braided ropes both inside and outdoors on their properties, around their pools and at their cabanas. Homeowners also use them for their decks and landscaping needs.
WARNING: "Decorative" nautical rope and our rope hardware including the rope ends and wall mounts, though heavy duty, are strictly for appearance and decorative purposes only. Our nautical rope is not intended for climbing, pulling or towing.
ROPE MOUNTS
What are you mounting your rope to? A fixed item like a hook on the wall or post in the ground or are you mounting to something that it portable and not secure such as a stanchion post?  If it's not a securely mounted fixed object, you should limit the length of your ropes.
Need something to mount your rope to? We sell pad eyes. What is a pad eye?  They are wall or post mounted plates with a loose loop that you can run the rope through or attach the hook to. If you need more specific rope mounting hardware, just ask and we may be able to help you.
Our 316 stainless steel pad eyes are available in matte black or stainless steel. They feature a 2″ diameter round mounting plate and a thick 8mm loop with a 2″ inner diameter.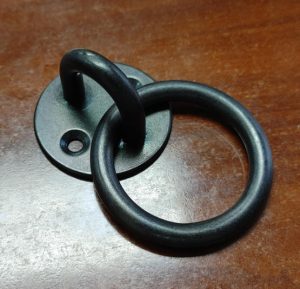 WHAT YOU NEED TO KNOW
If using hook ends, your measurements are to be made end of hook to end of hook
Swag: This is the desired dip in the rope. It's a personal choice how much swag you prefer. 4″ to 6″ is usually enough extra between mounting points to create your desired dip in the rope.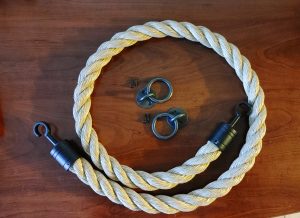 WHAT WE NEED TO KNOW
Quantity of each length of rope
Color of rope you need. Black or manila
Color of rope ends: Matte Black, Polished stainless (chrome), polished brass, gold, etc…
Destination details
Must have by date (Please plan ahead as much as possible)
CUTTING THICK DECORATIVE ROPE
Are you planning on purchasing a long length and then making the cuts yourself?  You will need the following items:
Quality grade electrical tape
A sharp pair of loppers
Good quality wood glue
Measure your distance a minimum of two times, account for swag (rope dip). If you plan to install rope ends, don't forget to add the extra distance they will create.
Mark your rope, firmly wrap the tape so it extends approximately 1.25″ – 1.5″ to each side of your mark, make your cut using sharp loppers, count your fingers and then apply wood glue to the ends and let the glue dry.
If you plan on making dozens of cuts or sections of thick rope, look into purchasing a hot knife.
OK, maybe you want something easier to work with other than nautical rope? Take a look at our rigid barrier beams.
ROPE END INSTALLATION TIP: Ropes have a natural dip. Hold each end of the rope in both hands and let the rope fall or dip naturally. Then install the rope ends over the electrical tape with the ends facing down the same direction as the dip.  This way it will hang nicely once mounted.