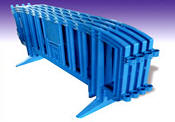 Looking for an alternative to the heavy galvanized steel crowd control barricades? Boulevard Supply is a dealer of Movit® lightweight plastic crowd control barriers. Available in a variety of colors, these 6.6′ plastic crowd control barricades are an ideal choice for schools, large venues, municipalities and event companies. These one piece units assemble and disassemble quickly.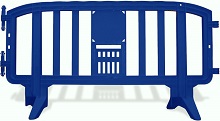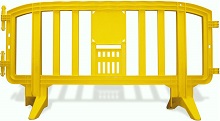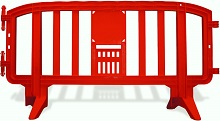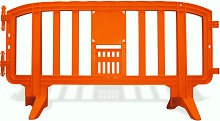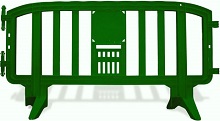 MOVIT® PLASTIC BARRICADES
MOVIT® plastic crowd control barriers are made of recyclable polypropylene. The feet are fixed and not removeable which adds extra support and increases durability. The lightweight barricades are easy to handle and ideal for outdoor and indoor use. They interlock to form a rigid crowd control barrier and store tightly together. These 6.5′ barricades can also be used with the smaller Minit™ plastic barricades which are a hair over 4′ in length. These will not rust like steel barricades.
DIMENSIONS: 78″Wide x 39″High
WEIGHT: 26 Lbs each
LOAD RATING: 1102 lbs (500Kg)
THERMAL RESISTANCE: -4° to +131°F (-20° to +55°C)
COLOR CHOICE: Blue, Yellow, Red, Orange, Green, White
PRICE: $ CONTACT US for CURRENT PRICING
PLASTIC BARRICADE EXTENSIONS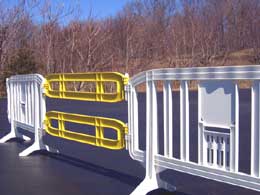 You can reduce the cost of you plastic barricade purchase by utilizing Extendit! These are 5′ long plastic extensions designed to work with MINIT™ and MOVIT® plastic barricades. Extendit plastic barricade extensions come in the same colors as the MINIT™ and MOVIT® plastic barriers.
LENGTH: 5.1″ (1.55cm)
HEIGHT: 10.4″ (26.5cm)
WEIGHT: 7.6 lbs (3.5kg)
PRICE: $ CONTACT US for CURRENT PRICING
CUSTOMIZE YOUR PLASTIC BARRICADES
You can display your logo or any advertising on either side of the barrier in the 11.6″ x 11.6″ centered display area.
WHAT WE WILL NEED TO KNOW:
QUANTITY: How many plastic crowd control barriers will you need?
BARRICADE COLOR CHOICE: You can mix and match if you wish but we will have to check availability on all choices.
– Blue
– Green
– Orange
– Red
– Yellow
– White
DESTINATION: For an accurate quote, please provide us with the

destination zip code

when inquiring about Movit® plastic crowd control barriers. Are we delivering to a business or residence? Do you have a fork lift or loading dock available if ordering in bulk? Will you need lift gate service? Any special instructions?