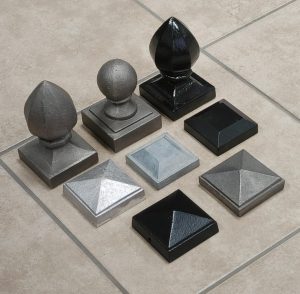 Clearance sale on a variety of items at Boulevard Supply in Las Vegas. Check back for special offers and discounted products marked for clearance.
Buy in Bulk and SAVE!
Buy all of our 2.5″ post caps. Good for 2-1/2″ square fence and deck posts. The first $200.00 takes them all in Las Vegas!  It's a mix of aluminum and cast iron, powder coated and mill finish…
Three bundles of paper valet ticket.  Red, blue or white
Various unmatched stanchion posts. Good for a sign stand or whatever. Make offer. Buy one or buy them all
(2) Kids rubber horseshoe sets @ $4.00 each
(1) Brand new smokers pole/post. Was $80. new. 50% OFF!
(1) BLACK Winco 23 gallon slim trash can receptacle with swing lid @ $25.00
LED Lanterns
GET ALL (140) LED LANTERNS for $700.00 this weekend.
WILL DELIVER IN LAS VEGAS AREA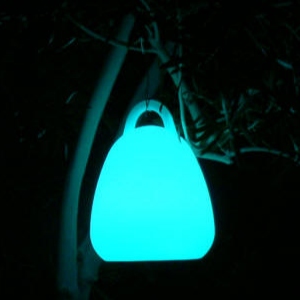 That's $5.00 each!  You will most likely need to replace the battery in the remote controls but this is still a great deal!  You can easily double or triple your money selling them at a swap meet!
Be seen! Walk safer at night.
These camping lanterns are fun color changing LED lantern that improves the visibility of children walking at night. Unlike a flashlight which project a beam of light in one direction, the Walk Safe 360 lantern projects light in all directions, to the front, to the rear, left and right. 360 degrees of one solid color or various colors easily changed by remote control.
The WalkSafe360 also features various light effects that allow the lantern to flash, strobe, fade or smoothly change colors.
Completely Safe LED Lantern
No flames
no propane
no kerosene
The WalkSafe360 is Waterproof, Weatherproof, Fun and increases the safety
12mm Bolts, Nuts, Washers
We have a few hundred of each 12mm bolts, nuts, flat washers and lock washers. The lock washers also fit 1/2″ bolts. Buy all of it for $200.00
We receive these in brand new bases and we take them out immediately as we use the bases only and not the included hardware.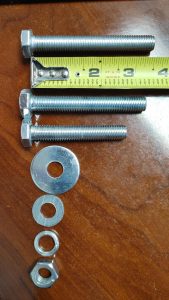 (1) CORNHOLE SET @ $30.00
All Weather Cornhole for Kids & Seniors 3ft x 2ft lightweight cornhole boards ideal amateur cornhole players, kids and seniors. Easy to transport!
Used only twice maybe?
Features:
Cornhole game set with 2 all weather boards, 8 lightweight beanbags and carrying case
Ideal for tailgaters, trips to the park, beach, backyard BBQs, and more
High-strength aluminum frame acrylic boards with water resistant MDF surfaces
Boards fold flat and fit in carrying case with handles
Each board measures 3 feet long x 2 feet wide
(1) CORNHOLE SET @ $20.00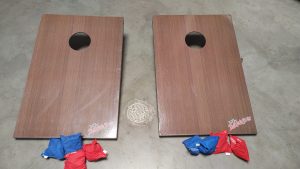 3ft x 2ft lightweight cornhole boards ideal amateur cornhole players, kids and seniors.
Used
Features:
Cornhole game set with 2 boards, 8 lightweight bags
Ideal for tailgaters, trips to the park, beach, backyard BBQs, and more
Each board measures 3 feet long x 2 feet wide
Pineapple Spear Style Fence Post Caps 2.5 Sq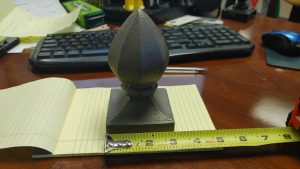 (20) w/ NO FINISH Available @ $4.00 each
(16) w/ Gloss Black Powder Coat @ $9.00 each
condition: new
made of cast iron
INSIDE: 2.5″ x 2.5″
OUTSIDE: 2-15/16″ x 2-15/16″
HEIGHT: 5.25″
2.5″ Square Beveled Aluminum Fence Post Caps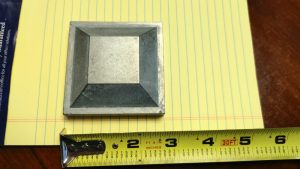 Over 200 Available @ $1.00 each
condition: new
INSIDE: 2.5″ x 2.5″
OUTSIDE: 2-5/8″ x 2-5/8″
HEIGHT: 15/16″
These are not finished or powder coated
2.5″ Square Low Rise Pointed Pyramid Fence Post Caps
(50) available @ $1.00 each