We stock 1.5″ OD 3K carbon fiber tubing in our Las Vegas store. We currently have three colors available in two different lengths.
Carbon fiber tubing is lightweight and extremely strong and durable. The 3K weave also makes them an attractive choice compared to fiberglass or PVC tubing.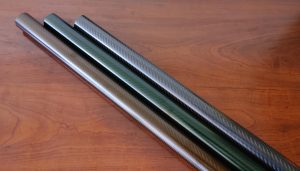 CARBON FIBER TUBE LENGTHS AVAILABLE:
They can easily be cut shorter
38mm OD tubing @ 1100mm (43.30″) long
38mm OD tubing @ 1700mm (66.929″) long
OUTER DIAMETER: 38mm = 1.496″ / basically 1-1/2″
INNER DIAMETER: 34mm = 1.33858 inch
WALL THICKNESS: 2mm / .0787 inch
CARBON FIBER TUBE COLORS AVAILABLE:
3K black weave – semi-gloss
3K green weave – semi-gloss
3K gold weave – semi-gloss
ORDERS:
Contact us with your details such as quantity needed, color, length and destination.
We can order various sizes, thicknesses and lengths. Round or square tubing. Carbon fiber sheets in various thicknesses. Minimum orders apply and set up fees may also apply.
LEAD TIME: Varies, can be anywhere from 2 – 6 weeks depending on your needs such as quantity, colors, size and urgency…
Need your logo or business name added to your tubing?  We can do that! There is a minimum order of 100 tubes when adding graphics.
CARBON FIBER TUBE USES
Carbon fiber tube has multiple uses and benefits. We use them to create our tubular crowd barriers. An alternative to stanchion ropes.  You can also find carbon fiber flagpoles, fishing rods, drone components, arrows, bike frames, exhaust and engine components and many other items.
Carbon fiber tube is used in construction or where weight and strength are factors.