Why Avoid Orange Cones in Front of Commercial Properties?
Orange cones are a common sight and a required necessity in construction zones, but if your business is using orange in front of your commercial property, hotel or retail store for lane blocking, parking management or valet parking purposes, they could be costing you business! While orange cones may serve a functional purpose, they can also give the impression that a property is under construction, which can deter customers.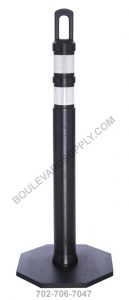 What Are Better Alternatives to Orange Cones?
Boulevard Supply offers a better alternative to orange cones that you can use in front of your commercial property. These alternatives include:
Black cones: Black loop top delineators are a much classier option that still provide lane blocking and lane separation functions while maintaining vehicle traffic flow. These are utilized by many valet parking services and hotels around the country including the Bellagio, New York New York and Resorts World in Las Vegas.
White cones: White cones are another classy option that provide the same functions as orange cones and black delineators. They can be used to channelize traffic or to mark off areas in valet areas and parking garages. They are less likely to be seen as a safety hazard than orange cones. These are utilized by a few nightclubs and the Mandalay Bay hotel in Las Vegas.
Blue cones: Blue cones are often used to mark off areas that are off-limits to the public or to designate handicap parking or access. A much better alternative than orange.
Loop top delineators: Loop top delineators are a type of traffic delineator that has a loop at the top. The looped handle makes them ideal for valet areas and are often used to designate certain lanes, to block off lanes or to redirect traffic. Loop top delineators are less likely to be seen as a safety hazard than orange cones.
How to Choose the Right Cone for Your Property
When choosing a cone for your commercial property, you need to consider the purpose of the cone, what will the cone be used for? Are you using it to direct traffic, to mark off an area, or to create a sense of security? If it is for construction and safety purposes, stick with orange cones. If it's for valet, parking management, lane block, direction, channelization, use another color.
Once you have considered these factors, you can choose the right cone for your property. By choosing the right cone, you can help to keep your property safe and secure, and you can make a good first impression on potential customers.