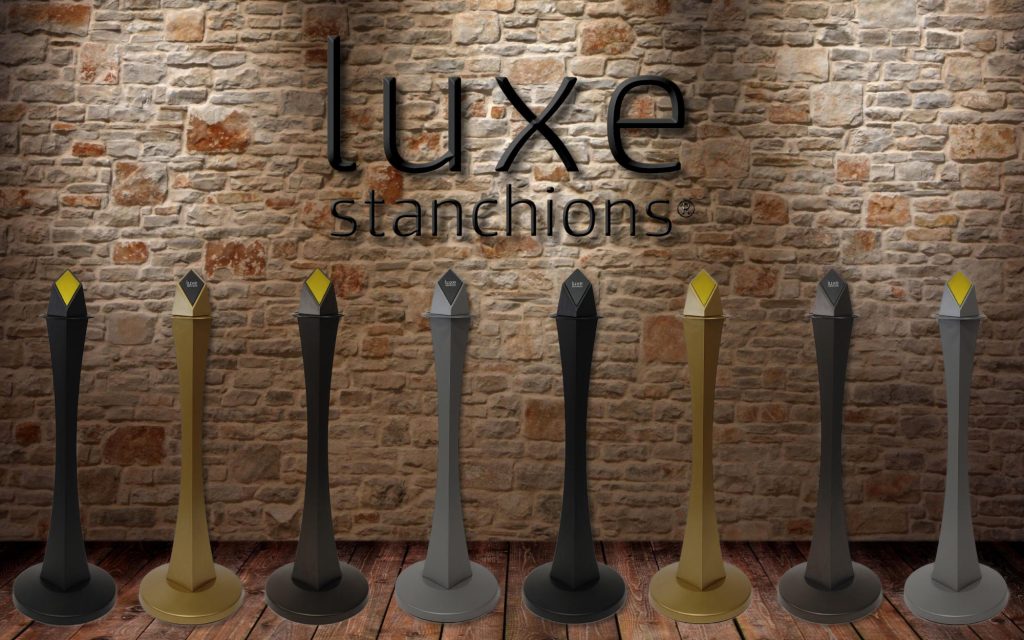 Four and Five Star luxury hotels and resorts, upscale event hosts and venues, restaurants, museums, casinos and a handful of others need to present and maintain an upscale high-end appearance and professionalism at all times. This especially includes entrances and lobby areas where your guests may be waiting in line.
We have luxury crowd control barriers including very attractive sign stands. Available in antique gold, textured matte black, bonze and satin silver, these rope post barriers are guaranteed to make an impression as your guests enter your establishment.
Our luxury stanchions, designed for indoor use, feature a slender sexy yet elegant post design that sets these barriers apart from standard crowd control posts. They also weigh in at approximately 32 lbs each which adds stability to your crowd control system.
We also offer a variety high-end, luxury stanchion ropes that come in durable leather, rich looking Naugahyde and velvety velour. We can also dye microfiber ropes with any design or color you need.
CURRENT LUXE STANCHION PRICE:
Matte Black @ $249.95 each + shipping
Fossill Silver @ $249.95 each + shipping
Antique Gold @ $249.95 each + shipping
Bronze @ $249.95 each + shipping
AVAILABLE TO PURCHASE
Please call us with your color and quantity details to place an order
702-706-7047