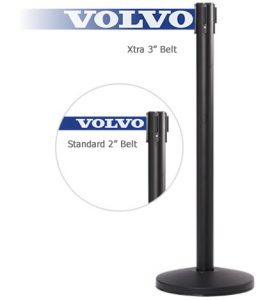 QueueMaster 550 stanchions from Queue Solutions are value priced stanchions designed for budget minded and bulk purchases. Please contact us for a quote.
Queue Master 550 stanchions are constructed with a steel post and heavy concrete base. They are a reliable and durable choice for trade shows, low traffic events, small retail stores, small venues and party rental companies.
Queue Master 550 Series stanchions offer the following features:
RETRACTABLE BELTS: 2″ Wide x 8.5′ or 11′ in Length
2.5″ Diameter Posts
Concrete Base, 13.75″ Diameter
WEIGHT: 21 lbs
All Queue Master 550 Series stanchion have a 3 year warranty against manufacturers defects
Easy to clean with ammonia free glass cleaner
Easy to assemble! NO TOOLS required
Replacement parts such as replacement retractable cassettes and base covers are available.
The QueueMaster 550 Extra (Xtra, QM550X) features a large 3″ wide belt which is great if you choose optional belt printing to add a company logo, branding or message to your stanchion belts.
The QueueMaster 550 Twin (QMTwin550) is a value priced ADA Compliant stanchion that features two retractable belts. Some restaurants, hospitals and other locations that cater to the public require ADA compliant stanchions. Please contact your local city, county building inspector to see if you are required by law to utilize ADA compliant stanchions. If so, the QueueMaster 550 Twin is a smart, economical and attractive choice.
Also available are the QueueMaster 550 Twin Xtra (QMTwin550X) which is an ADA Compliant stanchion that features two retractable 3″ wide belts.
550 SERIES POST AND BASE COLOR CHOICES:
Black (B)
Polished Chrome (PC)
Satin Chrome (SC)
Polished Stainless Steel (PS)
Satin Stainless Steel (SS)
Polished Brass (PB)
Satin Brass (SB)
550 SERIES BELT COLOR CHOICES:
NOTE: The 8.5′ belt is only available in black (B), Red (RD), Blue (BL) and Yellow/Black Diagonal Striped (YB)

Queue Master 550 SERIES STANCHIONS by MODEL NUMBER
QueueMaster550B-BK-110 is a black stanchion with a 11′ black belt
QueueMaster550B-BL-110 is a black retractable stanchion with a 11′ blue belt
QueueMaster550PS-BK-110 is a polished stainless stanchion with a 11′ black belt
QueueMaster550PB-MN-110 is a polished brass stanchion with a 11′ maroon belt
Queue Master 550 TWIN SERIES STANCHIONS by MODEL NUMBER
QueueMasterTwin550B-BK-110 is a black stanchion with two 11′ black belts
QueueMasterTwin550B-RD-110 is a black retractable stanchion with two 11′ RED belts
QueueMasterTwin550PS-NBL-110 is a polished stainless stanchion with two 11′ navy blue belts
QueueMasterTwin550B-MN-110 is a black stanchion with two 11′ maroon belts
WHAT WE NEED TO KNOW:
In order to receive an accurate quote, CALL US with the following information:
POSTS: Quantity and color stanchion posts. Number of receiver posts and number of posts with retractable belts
BASE CHOICE: All QueueMaster come with sloped base
BELT LENGTH and COLOR: 8.5′ or 11′
550 SERIES MODEL CHOICE: Queue Master 550, 550 Xtra, 550 Twin, 550 Twin Xtra
OPTIONS: Do you want belt printing or special post and base color?
BILLING and SHIPPING DETAILS: Complete billing and shipping destination details along with a contact name and number for receiving
RECEIVING: Do you have a forklift or loading dock or will you need lift gate