Factories and warehouse in Las Vegas and around the country look to Boulevard Supply for their industrial supply equipment that includes both indoor and outdoor stanchions, line barriers and roof perimeter systems. We also offer traffic cones and portable signs for industrial businesses and parking lots.
The last thing your business needs is an OSHA investigation because of a preventable workplace injury. With some strategic planning and the proper safety equipment, you can avoid a visit from OSHA.
Boulevard Supply has portable signage and retractable safety barriers for both inside and outside your warehouse or factory. Yellow and Black striped signaling the use of caution and red and white indicating a dangerous area.
INDUSTRIAL SUPPLY ONLINE CATALOG
Take a look at our online catalog of industrial equipment and contact us with the part number, quantity and destination for a quote.
SAFETY STANCHIONS
A popular industrial supply product are portable safety stanchions. We offers stanchions for both indoor and outdoor use. Contact us with the details and usage plans of your safety stanchions.
AISLE BARRIERS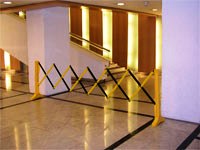 We now offer Expandit and Multi-gate expandable folding barricades which are ideal for blocking aisles in retail stores, warehouse clubs and industrial supply warehouses. Also good for blocking stairwells, elevator entrances, and for temporary bathroom cleaning and road closures.
PORTABLE SAFETY SIGNAGE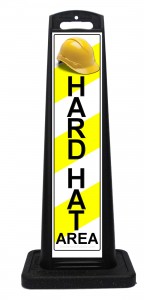 Work zones and hazard areas change by the day. You need portable signage that can keep up with your ever changing work zones. This is an underrated item  that should be on your industrial supply checklist.
Keep employees and customers safe by alerting them to a hazardous situation and that caution should be used in the area. These plastic signs are all weather signs ideal for indoor or outdoor use and can be stacked and transported with ease.