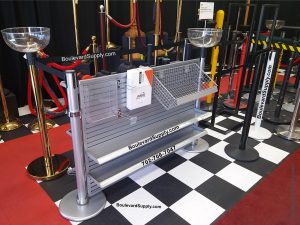 Boulevard Supply is a nationwide dealer of portable, stand alone slatwalls and slat-wall merchandising accessories for retail stores, airports and trade show displays. You've seen these slatwalls in airports and in major retail stores. Automotive repair shops will also find that stand-alone slatwalls save on space and are ideal where space is limited.
The slat walls we offer are designed to work in unison with Queue Solutions retractable stanchions. Stand alone slatwalls are a crowd control system disguised as an impulse merchandising system.They create a barrier while offering products to your customers. Here is how the slatwall merchandising system works:
MAKE A DIAGRAM detailing your layout. Use plain dots for receiver posts, dots with a line through it for retractable belt posts and solid lines for panels. This will allow you to accurately calculate the quantities of posts, panels and accessories you need.
CHOOSE A COLOR: Panels are only available in black or light gray.
EACH POST REQUIRES two collars. This is what secures the slatwall panel to the post.
ACCESSORIZE: Solid shelves, wire shelves and baskets, pegboard hooks, brochure holders….  You know your products and the size of your products. Think it over carefully how you wish to display your products on each panel.
SLATWALL PANELS
Available in black or light gray, we offer two sizes of double sided stand alone slatwall panels for your merchandising needs. Slatwall panels are powder coated steel set in an aluminum frame. These are much more durable and easy to handle than pressed board or fiber board slatwalls. Accessories such as shelving and pegboard hooks can be utilized on both sides of each panel.
The panels easily mount to retractable belt stanchions or receiver stanchion posts. The retractable belts allow you to close aisles if necessary. The receiver posts do not have a retractable belt. This saves you approximately $10.00 per post.
Assembly is fast and easy. Once you assemble your first slatwall panel, you will breeze through the rest.
CALL FOR QUOTE WITH DISCOUNT PRICING
Standard Slatwall Panel Dimensions: 49.5″ Wide x 36″ High
Extended Slatwall Panel Dimensions: 49.5″ Wide x 48″ High
SLATWALL ACCESSORIES
Slatwall Peg Hooks
Slatwall Shelving – Solid or wire
Slatwall Brochure Holders
Merchandising Bowls
Slatwall Baskets
SUGGESTIONS:
Extend the length of your checkout lines by installing at least one merchandising panel at the end of each line. This allows you to offer more impulse buy products as your customers stand in line at checkout. Make sure at least one of the posts has a retractable belt. You will be able to quickly and easily close your aisle or checkout line as needed.
Are the aisles in your store too narrow for a large display? Create separation and display a variety of products with our portable stand alone slatwall system.
INSTALLATION TIPS
WHAT WE NEED TO KNOW:
In order to submit your order properly, please make a diagram detailing your layout so you order the proper amount of posts and panels
POSTS: Quantity and color stanchion posts. Number of receiver posts and number of posts with retractable belts
PANELS: Quantity and color of slatwall panels. Black or light gray?
ACCESSORIES: Quantity of merchandising bowls, pegboard hooks, wire shelves, metal shelves, baskets, brochure holders, etc…
BILLING and SHIPPING DETAILS: Complete billing and shipping destination details along with a contact name and number for receiving
RECEIVING: Do you have a forklift or loading dock or will you need lift gate service?